About
Fidelity Canada is part of the broader group of companies collectively known as Fidelity Investments, one of the world's largest providers of financial services.
For over 35 years, Fidelity in Canada has helped clients build better financial futures. Consisting of Fidelity Investments Canada ULC and Fidelity Clearing Canada ULC, Fidelity Canada has over $270 billion in assets under management and administration (as of August 2023).
Fidelity Investments Canada provides over 1.5 million individual investors and institutional clients a choice of innovative and trusted investment strategies to reach their financial goals. The choice includes a wide range of mutual funds, ETFs, sustainable investing products, digital asset strategies, high net-worth and Private Wealth programs and more. Fidelity investment strategies are available through financial advisors and online trading platforms.
Fidelity Clearing Canada is a leading provider of custody and clearing services and provides robust, flexible, scalable and innovative solutions to registered portfolio managers, investment dealers and other institutional investors. Clients rely on FCC for expertise in wealth management technology, trading, administration and reporting and business transition, which provides them the freedom to focus on what they do best – helping investors achieve their financial goals.
Fidelity Canada employs over 1,600 full-time employees in offices across Canada, with the headquarters in Toronto and regional offices in Montreal, Calgary and Vancouver.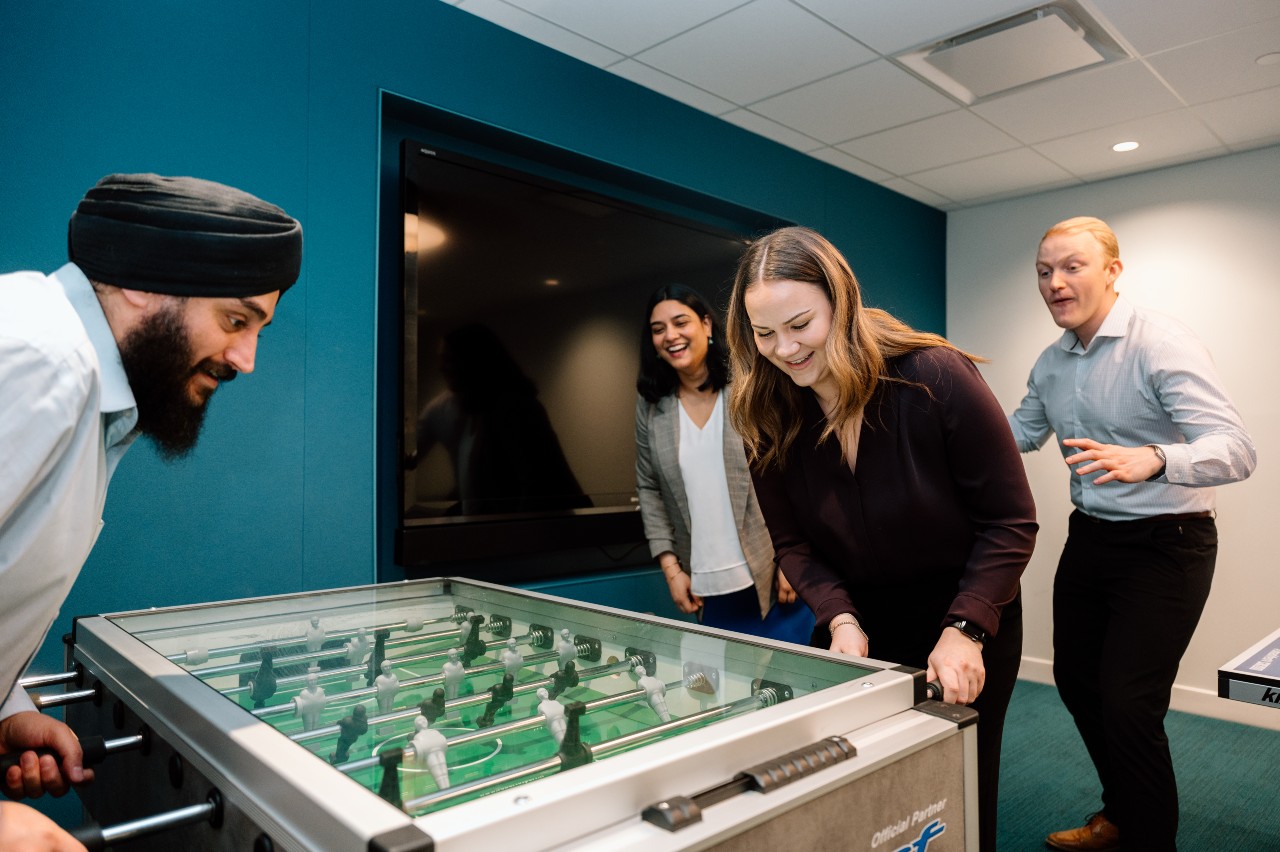 Why Fidelity?
Fidelity Canada is a recognized top employer that offers:
Meaningful purpose that contributes to building better financial futures for Canadian investors
Work culture shaped by our focus on core values of Trust and Integrity – doing the right thing for our clients and for employees and empowering each other to take the initiative and make good decisions
A forward-looking hybrid work environment that is among the most flexible in the business community
A constantly evolving comprehensive benefits offering that supports our employees at work and at home and their physical, mental and financial wellness
A place where you can learn, grow, belong and feel valued among a diverse and talented community
Want to dive deeper? You can learn more about what we offer employees here: Why Fidelity
Feel valued
Fidelity is a place where everyone belongs. We strive to create an environment where everyone feels valued, included, and supported to be their best - both personally and professionally. With a hybrid work environment, extensive wellness programs, and a commitment to advancing diversity and inclusion, we care for and support our employees in every aspect of work and life.
Feel curious about your career
We offer a wide range of opportunities for our people to learn, grow and explore new possibilities in their careers. Whether it's setting unique career development goals, gaining one-on-one mentorship, exploring a new area of our business through secondment opportunities, or taking advantage of the thousands of courses available through LinkedIn Learning and our internal learning platform, there's no shortage of professional development opportunities.
Awards