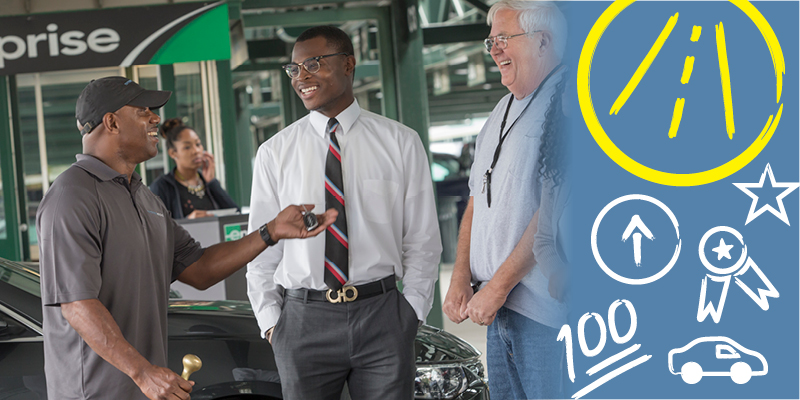 This is where it all starts.
Who Is Enterprise Holdings?
Enterprise Holdings is a leader in the transportation service industry with more than 2.1million vehicles. With annual revenues of $30 billion in FY22, their family of brands – including Alamo Rent A Car, Enterprise Rent-A-Car and National Car Rental – has nearly 80,000 dedicated team members.
From the relationship-driven work we perform every day to the communities we support through our philanthropic efforts, our people make our business thrive. 
In fact, our 80,000+ global employees are the backbone of Enterprise Holdings' success. And it's those people who have been driving us for more than 65 years. 
Each employee's career journey is as unique as the perspectives and ambitions they're encouraged to bring with them to their daily work. And they're met along the way with unlimited possibilities and a support system to flourish, grow and advance.  
One of our greatest strengths as an organization is our promote-from-within culture. With a wide range of job opportunities across business functions, Enterprise Holdings offers employees the chance to change careers without changing companies. 
It's also a workplace built on an enduring set of values that guide every interaction, whether with our customers, communities or one another: integrity, honest work, team spirit and simply doing the right thing.

A legacy of success you can build on.
From the very beginning, Enterprise has been a family. Founded by Jack Taylor in 1957, we've always operated under a simple philosophy - "Take care of your customers and your employees first, and growth and profits will follow." More than 55 years later, the Taylor family continues to do things Jack's way. And like most families, we've gone through some changes. We've added to our portfolio of brands. We're more deeply rooted in our communities. We've expanded to a global stage. And we're proud to have become the largest transportation service provider in the world.
An experience designed with you in mind.
This is a great place to start your career before you graduate. We're a proven training ground, where every day you'll be on the job learning, gaining real-world experience and getting paid.
Learn more
Find a Recruiter near you
Our recruiters are some of the best in the world.
We have a variety of great careers located across the country (and the world). Curious? Our recruiters are here to help you find the one that fits you best, wherever that might be.
Find a great career.
Select your region and connect with the local recruiter to find an opportunity that is right for you (and that gets your career moving in the right direction).
Awards