Why Mining?
Mining is essential to our way of life today and the world we want to create tomorrow. Choose a career in mining and help Canada be the world leader in safe, responsible mining. And be part of achieving a low carbon future.
Mining Drives the Economy
Major mineral and metal discoveries and mine development in the 20th century underpinned Ontario's rise to the status of Canada's most populous and wealthiest province, and supported Canada's development as an industrialized and globally competitive nation. Today, 35 active mining operations in Ontario deliver and estimated $8 billion to the provincial GDP each year and pay nearly $3 billion in wages and salaries. The sector supports approximately 31,000 jobs directly, and 47,000 jobs associated with mineral processing and mining supply and services. The future looks bright, as more exploration and mine development take place to strengthen local supply chains, and meet growing global demand for reliable and ethical sources of critical minerals.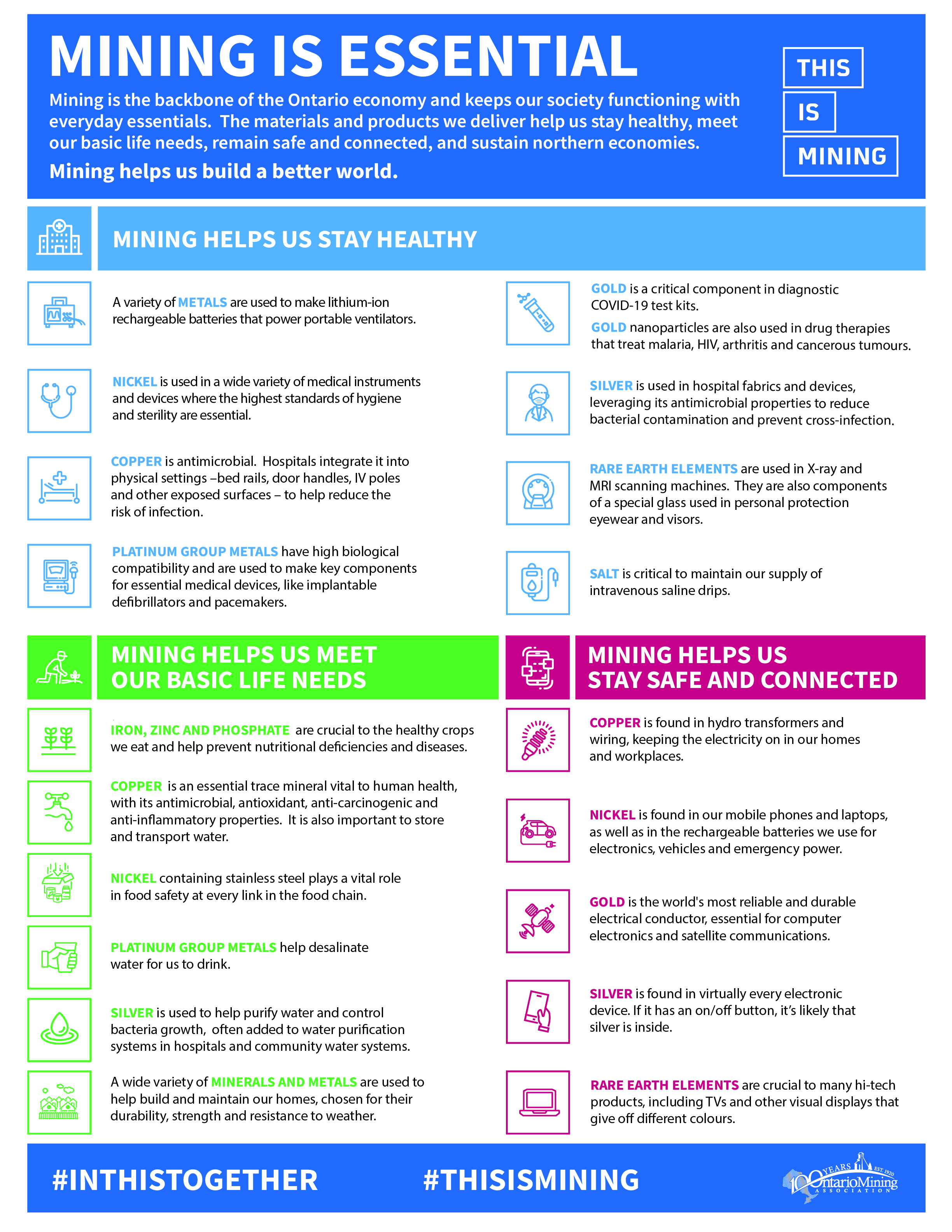 Mining is Safe
Ontario is one of the safest mining jurisdictions in the world and mining is one of the safest industries in Ontario. In the 35 years from 1975 to 2010, the Ontario mining industry achieved a 96% improvement in lost time injury frequency and, today, performs better than the Workplace Safety and Insurance Board (WSIB) industry average (public and private sector).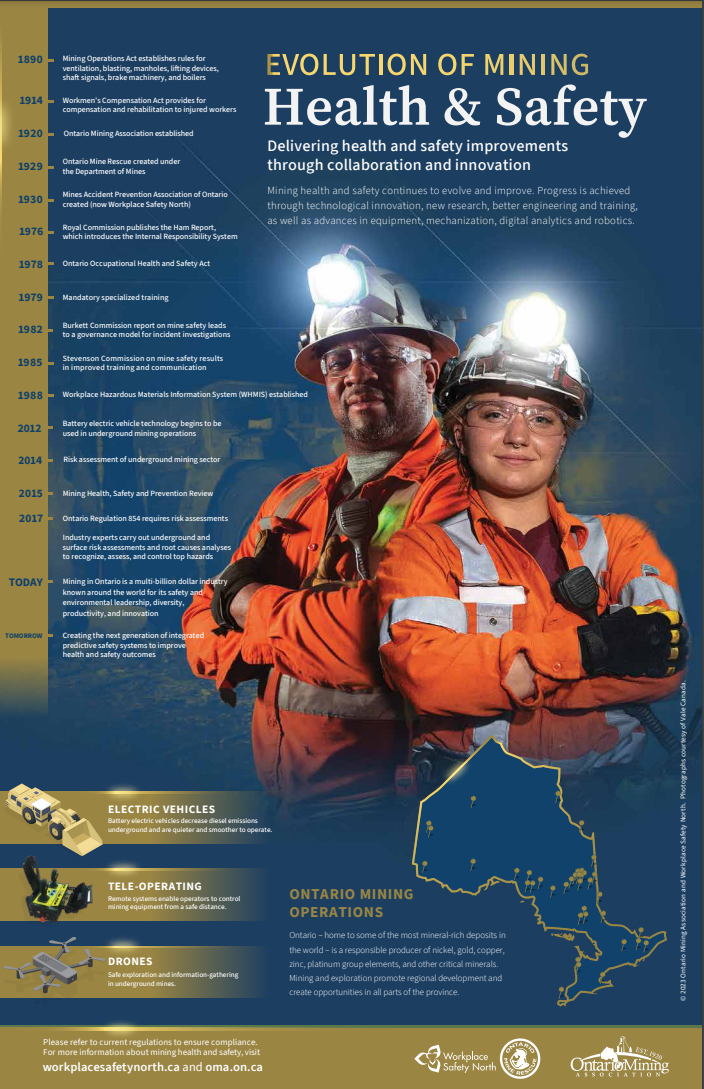 Mining Builds a Better World
Responsibly mined minerals and metals are the essential building blocks of modern life and the innovative technologies that enable a green economy. Ontario's mining industry produces and processes mineral resources that are the building blocks of everything from kitchen appliances to computer drives, phones, renewable energy technologies, electric vehicle batteries, medical devices, nanotechnology and much more.
Ontario has a well-earned reputation for promoting social and environmental responsibility, and continually improving performance through innovation. The materials we mine are transformed into technology that, having gone full circle, assist mining operations in reducing environmental footprints and enhancing efficiency and reliability. These same raw materials are also enabling the world to transition to a low carbon future.
Efforts to deploy renewable energy sources to achieve our net zero goals are directly linked to the ability to supply the materials used to make wind turbines, solar panels, electric vehicle batteries, and electrical grids.

Mining Disrupted
Technology has revolutionized every stage of the mining process. Developments in digital technologies, analytics, cloud and autonomous operations create a massive opportunity for mining and for the people who choose careers in the sector. From satellite imaging to robotics, mining companies are investing heavily in R&D to implement safety solutions, improve working conditions, increase efficiency, lower production costs and enhance environmental protection. It is an investment that is yielding results.
Our people are driving continual improvement in every aspect of mining. Best practice guidelines have been developed through collaboration between academia and industry to ensure land reclamation establishes healthy and productive ecosystems, and that future climate conditions are continually evaluated across the mining cycle.
The Canada and Ontario Critical Minerals Strategies signal strong government strong support for the mining sector, and willingness to accelerate projects. The aim is to seize the economic and environmental opportunities that can be unlocked by locally sourcing critical minerals required to manufacture environmentally-friendly technologies, such as electric vehicles. Building a strong, secure and resilient mining supply ecosystem positions Canada as the global supplier of choice for critical minerals.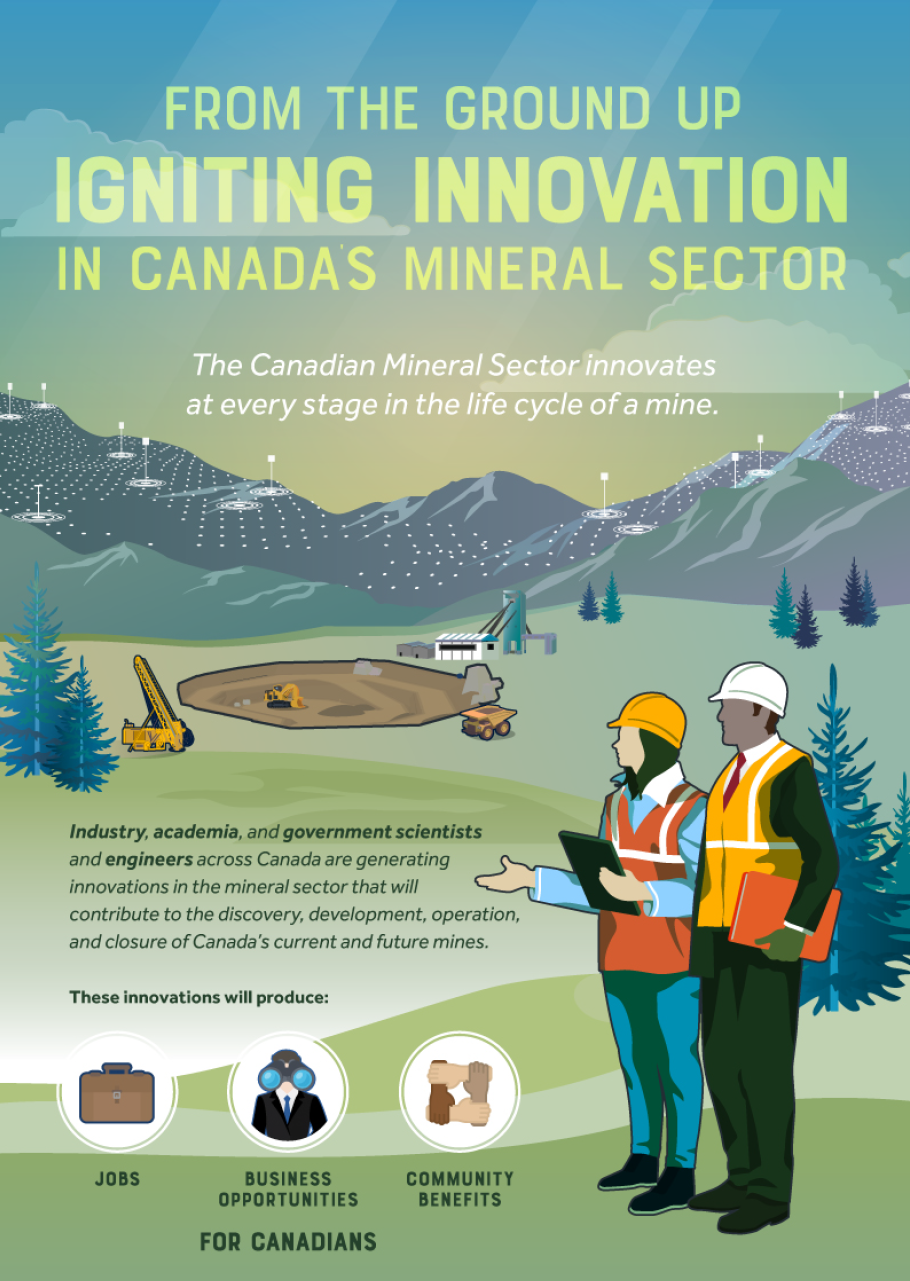 Who do you want to become?
Are you looking for a financially rewarding career? Do you seek adventure and skills? Do you like working on a team to solve interesting problems? Do you want to make a difference by supporting the efforts of Canada's mining industry to help deliver a clean, green, and bright future?