Kristle Power graduated from Memorial University in 2012 with a Bachelor of Commerce degree.
"I started my career with Suncor as a co-op student," she explains, "and reached out to Human Resources in Calgary about opportunities for new grads. I got a great reply about the Supply Chain Management New Grad Program!"
Today, she's a Project Buyer at Suncor. "I'm responsible for procurement planning, going to market for bids, bid analysis, communicating with vendors and working with the project team to make sure that we're on schedule and within budget."
Like Kristle, recent grad Vic Chaudhary appreciates that his career at Suncor allows him to take on significant responsibility as a Contracts Administrator. It's one of the reasons he loves working at Suncor.
"Suncor has it all," he says. "If you're one of those people that wants to grow, Suncor wants to grow with you."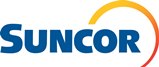 Ready to get started at Suncor? Check out their career opportunities here!