Media Relations Senior Advisor Kelli Stevens started her career with Suncor Energy as a co-op student, before moving into an Analyst role and exploring diverse business units at Suncor.
She has great things to say about her career growth at the company.
"I love the people at Suncor. I love that I'm listened to," she says. "If you have a well-founded belief in something that you can articulate, your team and other teams will hear it."
"There are so many opportunities," adds Recruitment Team Lead Kimberley Klapey.
"You never get bored at your job and you're always able to advance into something else, into something that is interesting and unknown."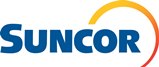 Explore student and grad careers at Suncor: click here!