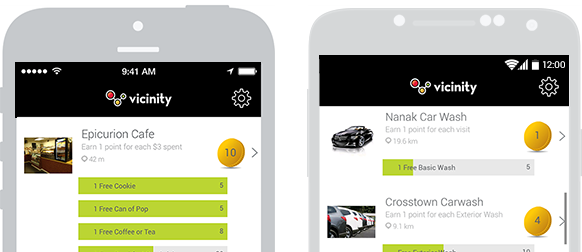 Are you passionate about helping small businesses grow and gain a competitive edge?
Vicinity is a new innovative turn-key Loyalty Platform that Rogers has launched for local small business owners in Canada.
The product allows small businesses to offer a point based loyalty program that tracks customer information, points, and redemptions.
We take the traditional punch card to a whole new level
Vicinity is committed to helping local businesses succeed in today's cluttered marketplace. As a division of Rogers Communications, our vision is to bring leading edge programs like Vicinity to small and medium-sized Canadian businesses. We're excited by entrepreneurial spirits and work hard to give local businesses the competitive edge they need to thrive and grow.
What does it mean to join Canada's most dynamic communications and media company? It means working with the best and brightest to deliver innovation that makes a difference in the lives of Canadians. It's enjoying great work and even greater rewards. Working together, we make sure our customers stay inspired, informed, and in touch with advanced networks, powerhouse media brands, and technologically-advanced communications services. It's a thrill. It's rewarding. It's Rogers.