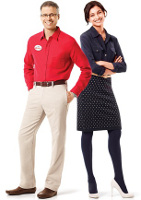 Join our team.
Expect the best.
Target offers a unique shopping experience and working here is no different. It's fun and friendly with lots of opportunity and rewards for people who give their best. We're seeking people with a variety of skills, abilities and backgrounds who love a challenge. Join our team and expect a career filled with empowerment, encouragement, respect and recognition.
Ready to help us change the Canadian retail landscape?
Great People, Great Place to Work
We offer a friendly, collaborative work environment with opportunities for career growth. We reward and recognize people and are committed to building a team that does the right thing for our communities, our shareholders and above all, our valued guests who shop at our stores.
We place a high value on diverse backgrounds and perspectives. Because we want to understand the communities we serve, local hiring is a priority.
As part of our commitment to our communities, we give 5% of our income to local not-for-profits. It's a cornerstone of our company, and we will continue our legacy of giving in Canada.
Opportunity for Growth
Opportunities to grow and lead are abundant when you work at Target. Team members are empowered, encouraged to innovate and are recognized for their work. Goals are clear, challenging and designed to develop knowledgeable, imaginative leaders dedicated to helping each other succeed. Growth opportunities are available in a wide range of areas across the country, from store management to merchandising to human resources and more.
Community Engagement
Target takes great pride in our long-standing history of community engagement and social responsibility. Since opening our first store, we integrate sustainability practices throughout our business, from the way we build and remodel our stores, to our unprecedented support of education, to the products on our shelves. And we're bringing that dedication to serving the public good to communities across Canada.
We will extend our commitment to giving 5% of our income to local not-for-profits in Canada to better serve our communities.

We encourage team members to volunteer to make our communities better. In December 2011 (even before stores opened in Canada) team members at our Mississauga headquarters helped the non-profit Caledon Community Services sort toys, fill stockings and box up food donations for families in need.

We pledged an amount equaling 100% of sales from the February 2012 Jason Wu pop-up store in Toronto. The event raised nearly $60,000 for United Way.

We work in each of our communities to understand what makes them unique and build relationships and partnerships with residents to discover their wants and needs.
Job Opportunities
Click here for job opportunities.